Meet our management
We'd prefer to introduce you to all of our employees, but with our growth rate, that would be impossible to keep up with. That's why we're just sticking to our management team here.
Ineke Kooistra - CEO The Works
Ineke Kooistra has been CEO of YoungCapital since January 2013. Ineke may be at the helm of a multi-million-euro company, but she is very open and approachable in her leadership style. And that makes working at YoungCapital really enjoyable. Ineke: "I like to be a facilitator for my employees. Tell me what I can do to help you!"
Peter Ligteringen - CFO The Works
Peter Ligteringen has been Chief Financial Officer at YoungCapital since February 2019. His motto: "I have never tried that before, so I think I should definitely be able to do that." This also reflects the growth mindset within YoungCapital that attracted him so much. "The great thing is that YoungCapital does things differently from the rest. That's our formula for success." His goal within the organisation: to grow together. "I want to achieve healthy growth, to offer clients and candidates more than what they expect, and in this way to double the size of this company yet again."
Elbrich Batstra - CHRO The Works
Elbrich has a heart for providing personal guidance to employees when it comes to their career — whether that involves their current job or taking the next step in their career. Elbrich: "I have the privilege of working in an enormously innovative organisation, where its strength lies in future-oriented thinking and working. YoungCapital is a caring and dynamic environment and is 'the place to be' when it comes to work."
John Muller - CTO The Works
John joined YoungCapital in 2005 and has been in charge of the entire IT department since 2019. His responsibilities include Development (we build most of our systems ourselves), Product, Process Support, IT Operations and Data. Day to day, he focuses on the technical strategy for facilitating the rapid growth of YoungCapital. "As a manager, transparency is very important to me. We work in a large company with the dynamics of a small company. That gives me the energy to try new things every day."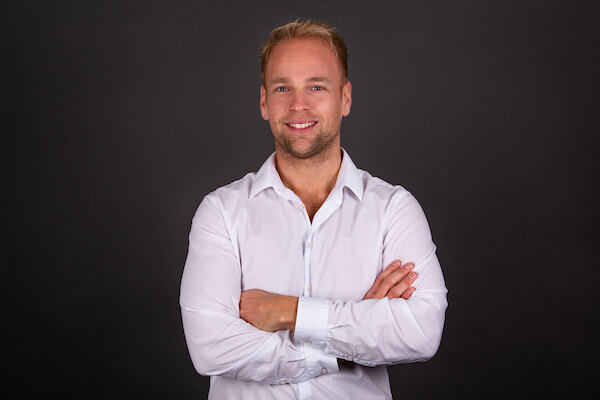 Giovanni Mele - Chief Marketing Officer
Giovanni Mele has been working with us since January 2018 and is now responsible for The Works' marketing and communications department. His mission? To transform The Works towards a human-based tech company, by working data-driven in autonomous teams. "Eventually we want to help all people find work through all our brands, but then we need to understand the labour market and our target groups even better." His leadership style is coaching. ''In my role, I think it's important that I help each colleague to bring out the best in themselves.'' Giovanni has worked in various marketing positions before, such as brand management, direct sales & crm, online marketing and marketing automation.
Mariska Visser - Operational Director YoungCapital Nederland
Mariska started out as a recruiter in 2006. Twelve years and five positions later, she controls the beating heart of the organisation as Operational Director. "Only dead fish go with the flow! I love how at YoungCapital, we always look at how things can be done differently, better, smarter and in a more fun way. And how we distinguish ourselves in the market and are able to work according to our own strengths."
Rob Groot - Commercieel Directeur YoungCapital Nederland
Rob started at YoungCapital in 2015. Since 2019 he's been our Commercial Director. In this position He is responsible for relationship management for our biggest clients and the acquisition of new clients. Rob truly believes that YoungCapital's commercial success is the result of the close collaboration between commerce and operations. "Thereby we show great commitment, but we also show realism towards our clients. That honesty and authenticity but also - and especially - our enthusiasm are greatly appreciated."
Philipp Tobergte - Managing Director YoungCapital Duitsland
Philipp started working at YoungCapital in 2015, and as of January 2020 he is Managing Director of YoungCapital Germany. This makes Philipp ultimately responsible for all business in Germany. Philipp really likes the idea of establishing and expanding fast-growing organizations: "My goal for the next five years is to create a future-proof organization and to grow even faster than in the Netherlands."
Daphine Jacobs - Managing Director YoungCapital NEXT
Daphine Jacobs joined The Works on the first of May 2022 and is primarily responsible for YoungCapital NEXT, the secondment label for young professionals in finance and IT. "Basically, today should always be better than yesterday. I love working hard and wanting to always win is in my blood. " In doing so, she always has eyes for her people. "Winning is something you never do alone. Helping each other, motivating each other and keeping each other focused is essential. And we always celebrate successes together - no matter how big or small."
Esther van Koot - Director Digital Media & Advertising
Esther has been working for The Works since January 2020 as New Business Director of Digital Media & Advertising. Or more specifically, our jobboards. She is responsible for expanding the commercial activities of brands like Jobbird.com, Uitzendbureau.nl and StudentJob. "I really like the idea of improving the sales drive and commercial success of a team. And that's exactly the purpose of our jobboards."
Karin van der Gragt - Growth Director
Karin started her career at YoungCapital in 2005 as a recruiter. She continued to grow in various positions and became Director of YoungCapital Germany in 2015. At this moment Karin is our Growth Director, and she is helping YoungCapital to get up and running in the UK. "Where attention goes, energy flows. I strongly believe in that. At YoungCapital I feel an enormous amount of freedom and trust, and I also propagate that every day. Because of this, people like to take responsibility and we have a strong culture in which colleagues can really flourish."